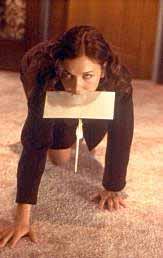 The Secretary, actually this is on DVD as well, but I have watched the VHS version. This film starts James Spader plays Edward Grey and Maggie Gyllenhaal who plays Lee (the secretary). The story is about a woman (Lee) who has just been released from a Mental institution. She is a troubled personality who has a history of self-scarring. she finds a place as a secretary for Edward Grey. As the story unfolds the two become attracted to each other and work out each others BDSM fantasies in the Office. It is a complex story line and you can find yourself analysing the whole plot. Watch it and work it out for yourself. The film is more like Romance than say Underworld.
I would give it 8/10 especially for dealing with a bdsm subject in mainstream cinema. James Spader also starred in Crash which you also might want to see.
More info and trailer here plus there is a great spanking game.
---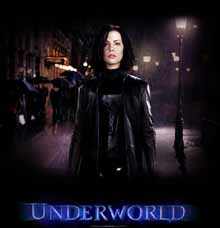 Underworld a dark Film about feuding Vampires. More importantly we see Selene (Kate Beckinsale) as a top ranking member of the Death Dealers. Even more importantly to us fetish fiends is that she is covered in a Black Latex Catsuit throuout the film she also wear a super tight corset. Fantastic film for Latex buffs and a great story line as well.
Well it would get 10/10 from me because I loved Kate in Pearl Harbour, its not a very good film but she is just gorgeous.
More info and watch a trailer here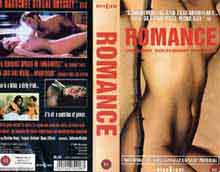 A classic French Video by Catherine Breillat . The story centres around a French Girl who is starved of love and affection, her lover is cold and impotent. She fantasises about being raped by a stranger and embarks on a mission to fulfill this fantasy. She samples various "lovers" including Rocco Siffredi. In some ways this is a disturbing film about a fragile woman but at the same time shows how she eventually finds happiness in the hands of an older friend who shows her the pleasures of bondage and domination She falls in love with this new force in her life.
The video is VHS Pal but will be available in different formats to suit each country. Unfortunately I couldn't find any website dedicated to the film so to purchase this video it might be best to go to Amazon or other such online video vendor. Another drawback is that I cannot contact anyone to ask for permission to place short clip, if anyone has any ideas then please email me.
I would give this film 7 out of 10, it has bondage and dominant imagery but is not the central point of the video. But it doe sstill have some very erotic moments, like when the main actress ( Caroline Ducy) is bound in an elbow touching bondage scene.
---
---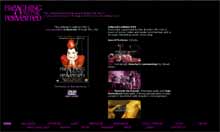 Preaching to the Perverted this is a unique DVD in that it is a mainstream film about the Fetish world. It doesn't set out to titillate but it can and does do that. It is about the image of Fetish pervery that the general public hold, well in the UK at least. The storyline is of a puritanical politician trying to uphold the moral fibre of the public and uses "Peter" as an infiltrator to get evidence to prosecute "Tanya Cheeks" and stop her Fetish Parties. Peter and Tanya eventually fall in love, Peter just wants a more normal sex life and Tanya wants to totally dominate Peter. The film uses some exceptional scenery and extras to create amazing and genuine looking fetish images.
The only down side to the film was Peters ham fisted tuning of his hidden video recorder, are we expected to believe that no-one spotted him doing this ? Other than that this is a brave and successfull attempt to release a film that covers a still taboo subject in the UKand many other countries.
(I have asked permission to put a short clip here as the clips on the official website do not work, when I get an answer I'll let you know)
If you want to know more or purchase the DVD then click on the image above or click on the url below.
http://www.preachingtotheperv.com/
I give it a score of 9 out of 10 for all of the imagery and talent plus the outright bravery. A top DVD for all of us Pervs
You can now view the trailer, that I have created and have permission to show here. The trailer is in Real Format so you might have to go to Real to get the player. The video is 5.6 Meg View Trailer
---